Reviews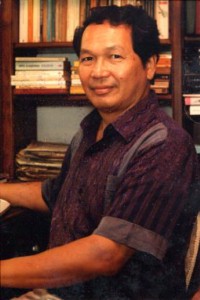 Following a visit to Pira Sudham's home village in Isan, Dr Andrew Forbes, School of Asian Studies, University of Oxford, observes:
Pira Sudham, in a remote village, in Thailand's arid northeastern region, has become firmly established as one of Asia's outstanding writers. His writing career commenced when he won New Zealand government scholarship to read English at Auckland University and later at Victoria University.
There, the young student's short stories appeared in Landfall, New Zealand's leading literary quarterly.
Since then he continues writing in English. He recognizes its status as the international lingua franca, a vehicle for bringing his beloved Isan to wider international attention.
He was born to a rice-farming family, and made his way to Bangkok at the age of 14 to serve the monks as a monastery boy in a Buddhist temple where he also attended a secondary school.
"If I had not left my village, I would have become another peasant, surviving in poverty. I won't cut off my roots, for without them I would not be able to grow. I see my literary works as a force from the grass roots, from the silent poor and the much-maligned people of Isan," the author claimed.
Asked why he writes, the author says: "In my mind I hold the memories of my childhood, like a pregnant woman bearing a child in the womb, knowing that one day I shall give birth to them. I don't want our people in Isan villages to be born, suffer and then died in vain. They are my motivating energy, fuelling me to create. For so long I have suffered along with them. An oyster, after a sharp foreign matter has strayed inside, causing pain, secretes a substance to coat the source of pain day by day until it becomes a pearl. I overcome my pain with writing, believing that one day my works would become powerful enough to bring about change."
Are we correct to think that there was a hint of anger as well as sadness in his narrative?
The author admitted: "As a child in Napo Village, what I saw and experienced deeply touched me. The penury, injustice and robbery saddened me. I remember a longing to tell my parents and other village folk what I saw and felt, and what they should see. I wanted to take them by their shoulders and shake them to wake up. But then I realized that they would not see things as I saw them. All the while I was told not to see, to hear and speak out. Years passed. My anger and sorrow have crystallized and become an impetus."
Pira Sudham explains why he writes in English.
"I admire James Joyce, Patrick White and George Orwell so much that I try to emulate them so as to achieve a certain stature in English literature. I chose English as a medium because of the discipline of the language and the process of reasoning it reflects, in contrast to Thai, which lacks punctuation marks and capital letters. Thai words are simply strung together without space between words. Languages reflect our minds. In this light I could see my lack of discipline, my crippled mind, maimed for life by an outdated, authoritarian education system that serves as a mind-maiming apparatus to make the populace submissive, silent and tractable. I use the English language in the same way the disabled uses crutches."
In Pira Sudham's books, Monsoon Country and its sequel The Force of Karma, the message is this. Events are the result of specific causes, and these causes can be changed. Analysis and logical thinking, combined with the will to improve the condition, can make things better. The world is not as it is because of fate or chance but because of history, and every day a new step in the march of history is being taken.
***
Claudia dos Santos, a visitor to the kingdom, writes to Pira Sudham:
My real contact with Thailand came during a tour to the Khmer ruins in your beloved Isan, with an expedition to the pre-historical site at Ban Chiang. Walking silently among the awe-inspiring ruins of Panom Roong and Pimai, the meaning and holiness of the grey stone structures became so tangible and familiar that I wished for a sign to ascertain whether or not I had been part of this era in a previous life. I was rewarded shortly afterward by finding a single earring from which dangling a tiny heart … proof enough for me. I took this as a positive omen and still have the little charm with me now.
Passing through Khon Kaen, I discovered your book, Monsoon Country, in the lobby shop of the hotel where we stopped for lunch. I was so captivated by the book that I could hardly put it down. Curtailing my reading time to 'nights only', gave me the benefit of being able to compare scenes passing before my eyes during the day with those read at night in your book. All the while Boonliang Surin, her gentle husband Kum, Sister Piang, Brother Kiang, lovely Toon and the lone schoolteacher Kumjai live within me. Their faces will remain vividly in my mind forever.
As I followed Prem Surin's trials and tribulations, I was able to appreciate the multitude of sights, sounds and the gentle patience in the smiling eyes of the peasants whose villages we passed through.
Now, back at home in South Africa, I have just taken part in Prem's ordination, hoping that as Pundit Bhikkhu he may find answers to some of the questions that torment him, that he will re-open the school and pass on to his pupils the sense of ambition, the questing mind and the love for both the old ways and what Kumjai believed to be important factors in a productive life. There is no doubt in my mind that Prem will succeed, as he is becoming spiritually stronger and wiser.
Thank you for writing such a moving novel and enabling someone like me to gain an insight into life.
I would like to add that the buffaloes sleep in many of us! May your buffalo's eyes keep on seeing and evaluating the impressions around you. You have truly bridged the voids between cultures and different civilizations.
***
From Australia, Chris Lee comments:
As a development worker I have often found myself wrestling with the inconsistencies and contradictions of progress. Acharn Sulak Sivalak has told me some of the answers, but what I was looking for were more specific to my work in Isan villages. More often than not, they would come to me only after I learned to appreciate and understand the dynamic inter-relationship between the needs and aspirations of the people and the reality of their particular situation. I believe that the common major constraint to development in the northeast of Thailand is the lack of understanding rather than inadequate technology or funds.
In this regard, I am very grateful to you because your excellent books made me aware of the situation and the aspirations of the people that I came to serve.
I would like to thank you for your writings. Your literary works are three of my most treasured books in my library. I note a certain restrained anger in your novels and stories, particularly when you discuss the topics of development. Personally I feel that just as compassion and caring are essential for development from the outside, a certain measure of anger is healthy and necessary to affect development from within.
***
After visiting Pira Sudham's official website, John Gately observes:
'Live life fully and leave some record.' These words were chiselled on a lump of rock which has become the headstone on the grave of Desmond O'Grady. He was a poet as well as an amazing man who dedicated his life to his art and suffered for it.
Your legacy is your great literary works which will survive. Your name will live on long after those draconian and avaricious men, who caused the pollution in and destruction of your country, fade into nothingness.
Whenever somebody asks me about Thailand, my immediate response is to tell them: Read Pira Sudham's books to get the real understanding of the country and its people.
Now, with your new website and ebook publications of your works, they have no excuse.
Take strength from your great gift that you possess. Don't ever underestimate your power, Pira. You are a giant in literature, and the inter-galactic highway of the internet will get you to more people.
***
Prof. Dr. John R. Lyon-Bowes Bernard reviews Pira Sudham's It is the People
It does Pira Sudham credit that he explains how the belief in karma can be counterproductive when it leads to the acceptance of particular injustice in this life as retribution for failings in past lives and so creates a sort of social paralysis which freezes resistance to that injustice and to the evil of heartless but powerful men.
The plight of young women from villages figures strongly in It is the People. Some have no alternative but to become prostitutes. I was moved by the author's care, when writing about them, to give them their dignity and individuality. There is stoicism in those unfortunate girls as opposed to some strident and quarrelsome Australian women. I found the contrast very interesting.
Pira Sudham's big guns fire mainly against the heartlessness of entrepreneurs. Those evil men trick or force peasants out of their patrimony so that they, the entrepreneurs, may make yet more money for themselves. Dams are mentioned more often than I expected and I am sorry their construction is such a formula for cruelty.
Concerning the evil, voracious eucalyptus, there is a theory that they are the cause of our barren and growing deserts. Australia was, in pre-history, an entirely green land with dense bush and tree cover which was moist and which promoted flowing streams and rivers everywhere. No other green thing grows where eucalyptus leaves fall and so ultimately eucalyptus die from the dryness of the surrounding ground they themselves have created. Over past aeons of time they have retreated towards the coast and the bulk of the land has become the dreadful desert they have made.
The green was there long enough, however, to lay down vast deposits of coal which is now our national shame because our entrepreneur and government go on hand in hand, increasing foreign exports of it and building more and more export terminals, many in Queensland, which are killing the Great Barrier Reef and polluting the customers' countries. Thailand beware!
It is the People makes a rich and kaleidoscopic picture. I congratulate Pira Sudham, and I think he may have even more to tell.